1C:AccountingSuite is a small business accounting and inventory software. The solution supports US GAAP and IFRS accounting and reporting standards. The software provides full visibility into purchasing and sales transactions, automates accounts receivable and accounts payable. 1C:AccountingSuite makes managing payments, receipts, and bank transactions a breeze, providing business owners with a real-time financial snapshot of operations.
Select any user, no password required.
General features
1C:AccountingSuite is a free business application, which is distributed "as is" and can be used as an example of a business application supporting multiple financial localizations and tax regimes developed on 1C:Enterprise 8 Platform.
A New Class of Cloud Business Software
There are cloud-based accounting applications, and then there is
AccountingSuite
. AccountingSuite is a new class of cloud business finance software that intuitively integrates accounting, inventory and order management into a single application. We built AccountingSuite to be uncomplicated and compatible—out of the box—with how growing businesses operate day-to-day. We put the features you need where you need them, so they are easy to access exactly when you need them.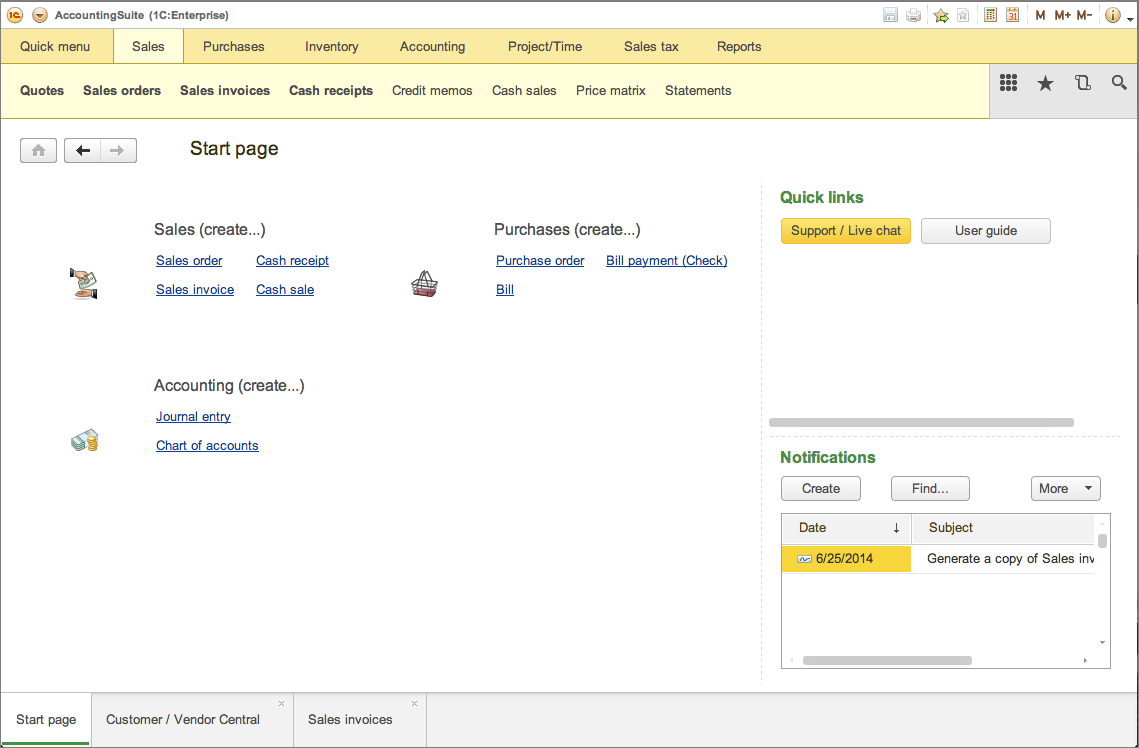 Accounting & Reporting Overview
Gives business owners and employees anytime, anywhere access to the financial data and reports they need to make day-to-day and strategic business decisions. Provides financial data for outside accountants, investors and partners.
General Journal / General Journal Entries
General Ledger
Trial Balance
Income Statement / Balance Sheet / Statement of Cash Flows
Learn More
Sales Module Overview
Manage all aspects of sales orders and customer service transactions. Designed to shorten your "order-to-cash" processes across all parts of your business.
Sales Orders
Sales Invoicing
Backorder Functionality
Electronic Delivery of Forms
Customer Returns
Customer Refunds
Cash and Credit Payments
Learn more
Purchasing Module Overview
Stay on top of your purchasing processes with streamlined management of purchase orders, inventory receipts, vendor invoicing, and supplier refunds.
Purchase Orders
Vendor Invoices
Purchase Returns
Track Deposits on Purchase Orders
Backorder Functionality
Refunds / Credit Memos
Learn more
Support
Feel free to ask questions on
1C:AccountingSuite support forum
.