Picture designer allows creating and changing both the standard pictures and the collections of pictures that are used in the configuration. The picture collection is a special picture containing the pictures-items of the same size:

The picture collection allows storing and editing the pictures whose use is of the same type, for example, widgets, button pictures, icons, etc.
Editing pictures
In the mode of picture editing the designer window consists of toolbar, two fields for editing a picture and color palette to select a color:
The designer provides the following tools to edit a picture:
pencil;
brush;
airbrush;
tool for replacing the colors;
eraser.
Using these tools it is possible to do the following actions:
draw the lines, curves, ellipses and rectangles with the sharp and rounded corners;
enter the text;     
allocate a rectangular or arbitrary area;
select a color;     
perform a filling.
In addition, the designer allows configuring the picture settings - width, height and resolution: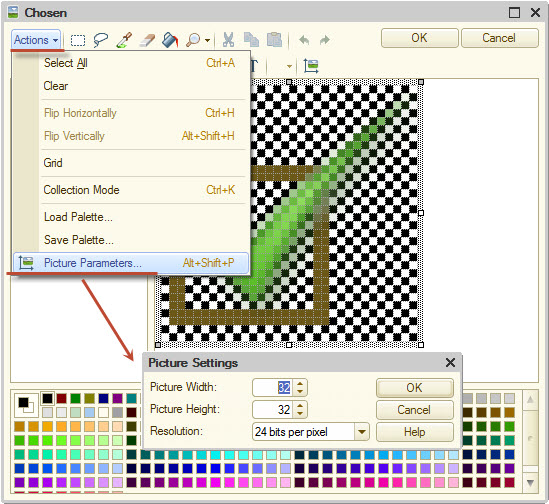 Editing the picture collections
In the mode of picture collections editing in the left field (after viewing) a picture is subdivided into the cells that correspond to the collection items.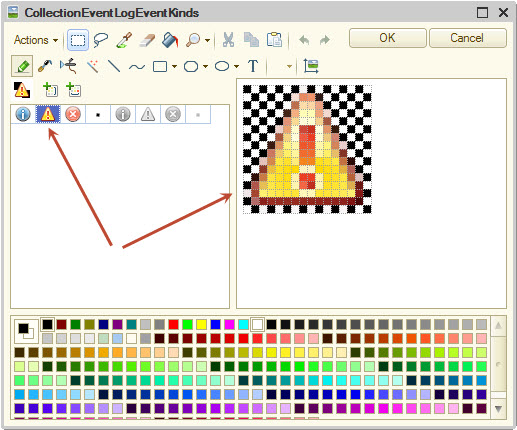 The designer allows setting the parameters of the picture collection itself and the sizes of its individual items:
During collection editing, the developer can add to the collection a row or a column.
By clicking the mouse on the collection item, it is possible to choose it for editing in the right window (editing window) and work with the collection item like with a standard picture.
In addition, the entire collection can be edited like a single big picture:
Alpha-channel support
For the pictures in PNG format with resolution more than8 bit per pixel the designer supports the use of alpha-channel.
For any color its transparency can be specified – from 0 (completely transparent) to 255 (non-transparent).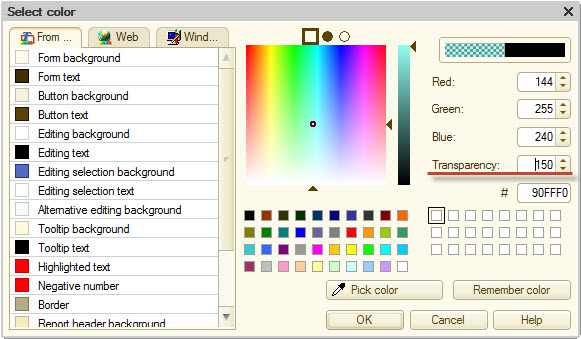 The partial transparency has an important value when creating the small pictures, such as, for example, the icons or the icons of sections. It allows making a high-quality and spectacular image.