Scheduled jobs are the general configuration objects. They are a part of jobs mechanism and allow automatically executing the script procedures on schedule.
For each scheduled job a schedule can be set according to which the scheduled job will be automatically launched for execution. In the 1C:Enterprise 8 system the single-phase and periodic schedules are supported. It is possible to set the start and end date of execution, the daytime, weekly and monthly schedules. The schedule can be set both at the stage of configuring and execution (in the 1C:Enterprise mode).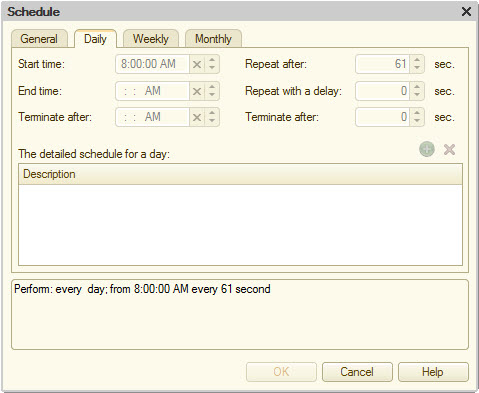 On startup, the scheduled job generates a background job which executes the actual processing. The scheduled job can be executed in the name of a given user and can be restarted (for example, in case of unexpected termination).
In the administrative utility of client-server operation variant the automatic execution of the scheduled jobs can be denied for a particular information base. Also there a possibility to lock the launch of scheduled jobs when creating the information base on the server from start-up dialog of 1C:Enterprise 8.